Mária Wittner: the parliamentarian sentenced to death
The life of the 19-year-old girl who participated in the 1956 Revolution had a difficult start and it would only become more difficult. Wittner did not know her father, and her mother gave her up at a young age. She grew up in a convent and then lived in state care, later working as a typist and then performing odd jobs to survive in Budapest.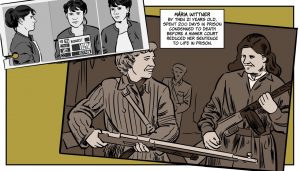 On October 23rd, 1956, Wittner found herself in the thick of events, standing among those youths who had assembled in front of the Hungarian Radio Building demanding that their points be read on the air. After the ÁVH secret police fired upon the crowd, the protesters stormed and occupied the building. On October 24th, she assisted in transporting those injured in the fighting at Corvin Lane, and later participated in the fighting with the nearby Vajdahunyad Street group. Together with her companions, they occupied the District X police station to obtain weapons.
Wittner suffered a shrapnel wound during the Soviet counter attack that began November 4 and ended up in the hospital. After her discharge, she tried unsuccessfully to leave the country on November 9th. She was arrested and later released.
In July 1957, Wittner was arrested again and convicted of "participating in armed organizing to overthrow the government, several counts of attempted murder, armed robbery and defecting," for which she was sentenced to death.
The frail girl, by then 21 years old, spent 200 days in prison condemned to death before a higher court reduced her sentence to life in prison. A general amnesty, announced by General Secretary János Kádár, who was installed in power by the Soviets, came into effect in 1963 due to international pressure. Nevertheless, Mária Wittner was freed only in 1970, among the last to be released from prison.
The broken, rootless woman who had spent her youth in prison supported herself through sewing and later cleaning jobs before receiving a disability pension at the age of 43.
She was elected a member of parliament in 2006, serving until 2014. Since the fall of communism, Mária Wittner has been one of the most well-known chroniclers of the 1956 Revolution, and she has tirelessly promoted its ideals ever since, being a patron of the 1956 Memorial Committee in 2016.